At Dataspace, we help our clients build strong data teams so they can do business better. After five years of focus on data talent recruiting and staffing, and more than 25 years in business intelligence, data science, and data engineering staffing and consulting, we've finally gotten around to crunching some of our own numbers and we are pleased to introduce our first ever quarterly Trends in Data Hiring report. With these reports we'll share some of our findings, and shed some light on questions like:
Which data skills are most in demand?
What industries are hiring data talent?
Is remote work a continuing trend for data professionals?
and more!
We'll also share some insights from Dataspace CEO, Ben Taub, on what these numbers may mean for the industry.
While this is just the beginning, we hope you find this snapshot of data hiring trends informative. As we build on this data, we expect real trends to emerge and provide value to our clients, data job seekers, and the overall data industry. We also plan to publish in-depth annual reports, comparing data for the past 12 months and, eventually, year-over-year.
And now, the numbers…
First, some really good news for data professionals…
Hiring is up. Way up. This may be a safe assumption, even if you aren't collecting the numbers, but from our experience alone, hiring in data-focused fields is up 63% over this time last year. In fact, it's even up nearly 20% from 2019. We aren\'t the only one noticing this; a recent Forbes article on job opportunities for data scientists states, "73% of data science and analytics teams planned to hire in Q1/Q2 of 2021 and 81% planned to hire in Q3/Q4 of 2021."
Of course there's a caveat to these numbers due to a little hiccup called a global pandemic. It's not hard to be way up after hiring ground to a complete halt in 2020. That said, the fact that we see growth over 2019 is excellent news for a field that really shows no sign of slowing down in the next few decades.
What industries are hiring data talent?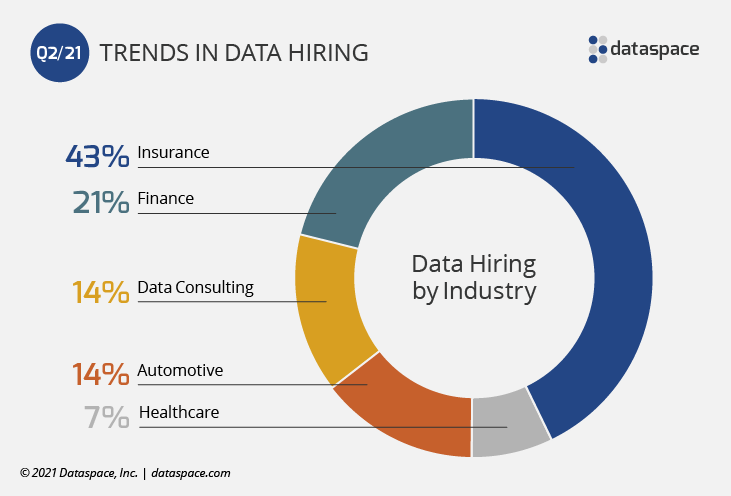 As a whole, it seems data professionals are in demand in nearly every sector. For us, Q2 leaned heavily to insurance and finance. Ben says:
Strong hiring in insurance and finance makes sense. It's not surprising that these traditionally data-savvy industries continue to have big needs for high-quality data professionals. For us, we've seen the biggest jump in requests compared to Q1 came from finance-related companies.
Are more data jobs contract or permanent?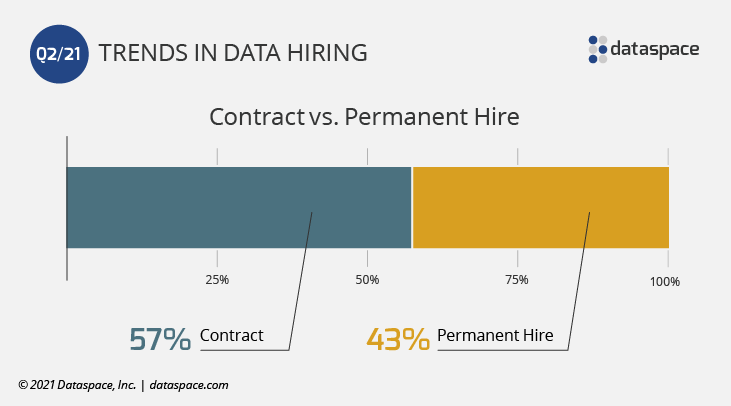 While the demand for both contract and permanent data talent remains strong, overall we get more requests for temporary contractors. This seems in line with data science evolving into something that is part of the day-to-day operations of many, if not most, organizations. We have been anticipating this shift for a few years—Ben explains further:
Organizations first build out their data teams with permanent hires. Once established, those same organizations will be more open to contractors now that they have mature data functions and need to push project work through.
Payrolled data teams have become standard to doing business and those teams will need to occasionally scale to meet the data and analytics needs of their organization. Data contractors are in high demand to meet those needs, and will continue to be.
What analytics specialties are most in demand?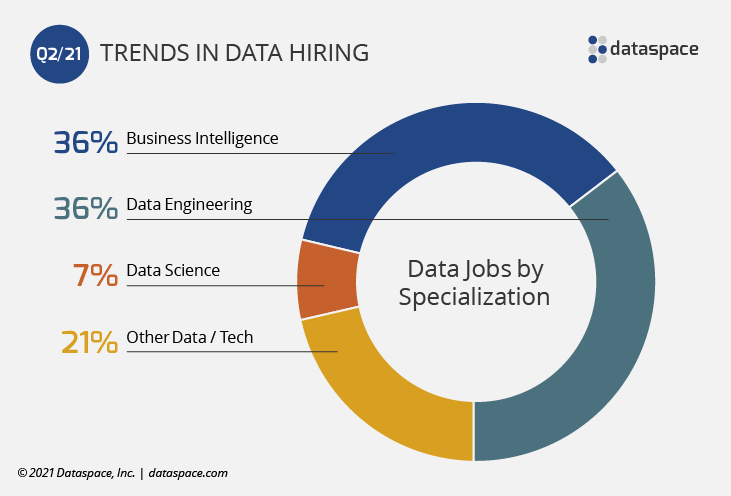 There are many different areas of specialization in the data sciences, for now our report will focus on broad strokes in the field. As the economy recovers, we've noticed a return to requests for business intelligence skills, while data engineering continues to be a hot specialization. Ben elaborates:
Business intelligence, a vital yet relatively \"legacy\" skill, is still very much in demand. Interestingly, while the press points to data science as the hot area for jobs, we\'re seeing even stronger demand for data engineers—the professionals who build data pipelines that feed \"raw material\" to data scientists. Anecdotally, our clients seem to be experiencing the same thing.
Even when you consider the projected boom in data science as a career, we don't think data engineers will be going anywhere—their skills will still be in high demand to keep the data flowing.
What particular data skills are most in demand?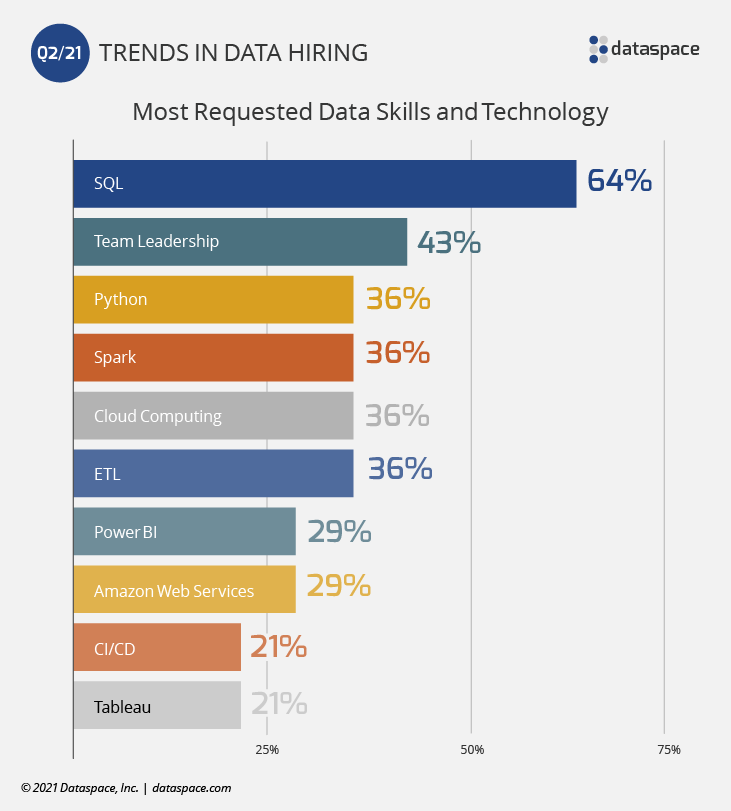 When it comes to the seemingly uncountable number of tools, technologies, and skills involved in data science, analytics, and engineering, there are a few that regularly float to the top. SQL is one that appears on most job descriptions that cross our desks. But interestingly we're seeing what may be the beginnings of a shift in its importance. Ben notes:
It\'s so ubiquitous as to almost be forgotten, but SQL skills are simply table stakes for most data jobs. That said, we're noticing that some of our clients are willing to accept lower levels of SQL competence for certain types of jobs.
Perpetually in high demand are Python, Spark, and cloud experience (particularly with AWS), which remains consistent for us with Q1 for us. A industry-wide review of top data science skills on KD Nuggets notes, \"a huge increase in skills related to the cloud, like AWS and GCP,\" and we concur.
However we have noticed a shift in the demand for specific business intelligence skills over the past few years. Ben explains:
In BI, Tableau used to be the predominant technology, but we now see more demand for Power BI. However, as with many technology areas, our clients are frequently willing to accept analogous technologies. So, while a BI Manager may be running a Power BI shop, they are often willing to accept a strong Tableau developer over a weak Power BI resource. While the signals aren't large enough to appear on the chart yet, we are also seeing little pings of interest in Looker, a BI technology recently acquired by Google.
Where are data professionals being hired in the U.S.?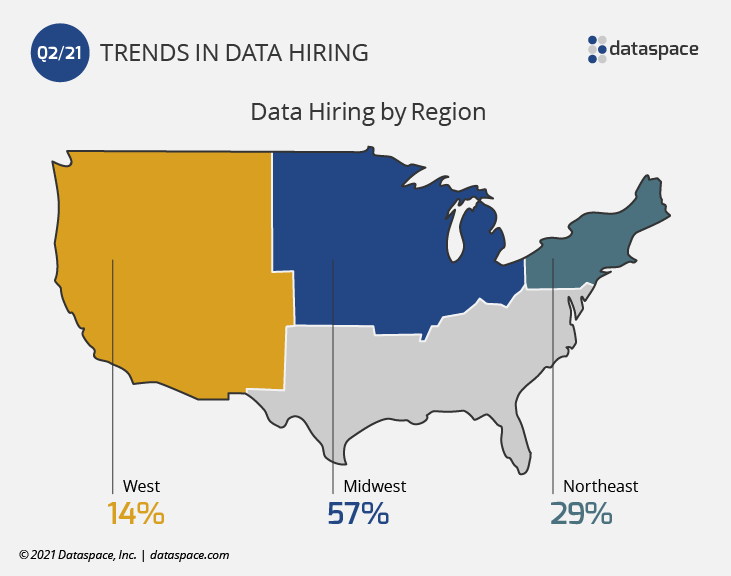 Of course the demand for data professionals is going to be big on both coasts due to population density and the location of big technology hubs. But don't underestimate the Midwest!
As a Midwest-located company ourselves, we expect our numbers will skew towards our region. Regardless, there's no denying that business runs on data, and data professionals will be in high demand everywhere. Ben lays out why some great data career opportunities are coming out of the Midwest:
While we regularly get requests from both coasts, an interesting and significant amount of demand for data professionals comes from the Midwest, where organizations are building out their data teams. We find these companies are offering some very compelling options in order to compete and draw candidates from \'sexier\' opportunities elsewhere.
Interestingly, despite the undeniable growth of tech hubs like Austin, Texas we aren't seeing demand from southern states. We suspect this is, in part, because much of this growth is coming from established companies relocating to this geography. These companies have highly experienced internal recruiters and will also relocate existing staff, reducing the demand for outside recruiters, like Dataspace.
Will remote work continue to be an option for data-focused jobs?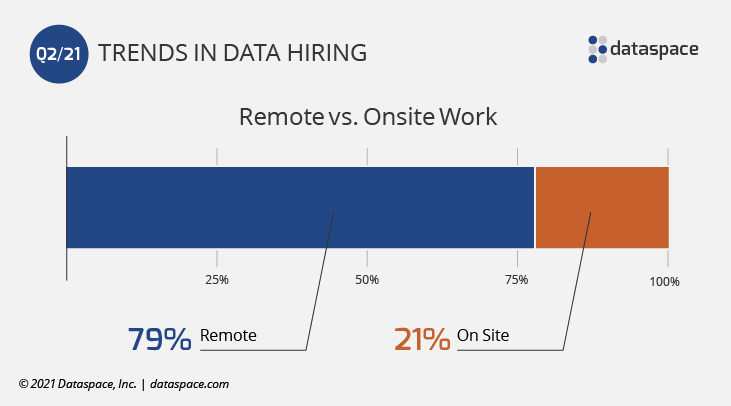 While many employees are returning to their offices across the country, remote work doesn't look like it will be going away. In fact, more of the jobs we posted in Q2 were open to remote work than in Q1. We've found that organizations that were previously unlikely to consider remote employees have become much more open to the idea. Ben explains further:
While most employers we work with still express a slight preference for onsite workers, we are seeing much more openness to remote work for both permanent and contract employees. Anecdotally, however, this trend seems to be leveling off. As the U.S. gains control of the epidemic, more clients are requiring onsite, or partially onsite, work. But, for companies with hard-to-fill positions or very specialized needs, offering offsite work as an option can prove to be a great way to attract a higher number of qualified candidates.
Putting it all together: data hiring in 2021 (so far)
The bottom line: "To be a successful company in the 21st century you have to use data to your advantage."
Today, data teams are as important to the success of modern business as sales and marketing teams. As folks who go out and find expert data talent for organizations across the U.S., we have some first-hand insight on where the field is headed. But it really boils down to this:
For job seekers: If you're considering your professional future, it's hard to go wrong with a career in data science, analytics, or engineering.
For hiring managers: If you\'re running a business or organization that relies on data (and who doesn't nowadays?), there's significant demand for the strongest talent. So you've got to make your organization appeal to the top job seekers. Steps you might consider include:
Offering the option of remote assignment
Budgeting for competitive compensation and benefits
Selling the mission of your organization and the criticality of data and analytics to achieving that mission
Opening your position up to immigrants with strong skills who are in the country on work visas
Let Dataspace help you hire expert data talent.