"Tell me more about your work at X"
As a standard part of our application process, we have candidates answer some basic questions such as:
-Name
-Current Employer
-Current Title
Then we ask a few more role specific questions, to help get a better understanding of the candidate's skill set, and give them a chance to flesh out some things that might not be highlighted on their resume. For data science roles, these questions are usually along the lines of:
-What data science tools are you using in your current role?
-What machine learning tools have you used?
-With which data source technologies do you have experience?
A consistent issue that we run into is these questions being answered in ways similar to the following:
Current title/company:

or…

Or even…

Role specific questions: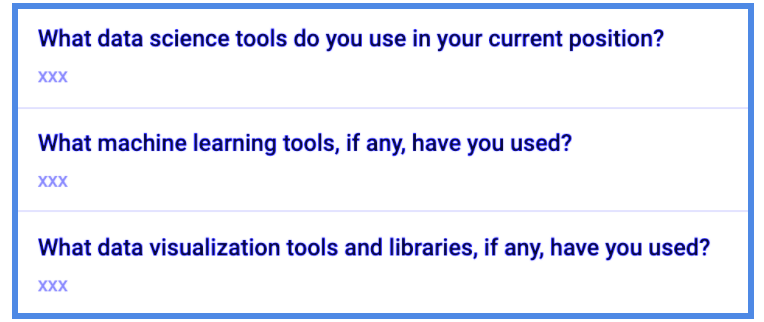 Interestingly, while it appears to be too much effort to list a current job title, these applications never neglect to fill out the rate/salary requirement questions. We had one application recently where the only data science tool this candidate had used was "xxxxxxxxxxxxxxxx", but they were looking for a salary of $150,000.
In and of itself this is not necessarily resume fraud. However, it does serve as a glaring red flag.
The carelessness of the manner of answering these simple questions is carried through into the resumes, which are often jumbled, dense, repetitive, and otherwise do not inspire much confidence in their veracity.
After years of this, we've learned to barely consider candidates who work at xxx or who answer our questions with meaningless combinations of letters and numbers. To be quite frank, this is an indication to us that the resume was not even submitted by a candidate but rather by a contract house (or their bot!) that is merely trying to submit their resumes to as many roles as possible, as quickly as possible, in hopes of placing a candidate through sheer volume of applications. This tactic presumes that most companies are using some sort of AI resume screening tool as the first layer of review, and encourages the idea that a resume can get through to the next round of screening merely because it is padded with the right keywords.
Not at Dataspace. All applications are reviewed by an actual human (actually, me!), and we take into account a variety of factors to ensure that the candidates we interview/send on to clients are:
-also actual humans who have the actual experience detailed on their resume
-the right fit for our client
After all, we're staking our reputation on the quality of candidates that we provide. In order for a candidate to be submitted to a client, they must first prove to us that they are worth our client's time.
And when you can't be bothered to spend a couple of minutes typing in your current title, it's going to be hard to convince an employer that you are worth their time… let alone that 150K you're looking for.
So?
What do you think? Does this look like someone trying to fool me with a fraudulent resume? Do you have examples you'd like to share? I'd love to see them!
Thanks for reading!