As a staffing and recruiting agency focused solely on data talent, this has been a busy year. Companies are seeking us out because they have data roles they desperately need filled, and traditional recruiters are letting them down—they don't know the data science industry well enough to effectively screen candidates. In the current hiring climate, where demand is enormous and qualified job seekers are often few and far between, businesses don't have the resources to waste with poor hires.
So while the demand for data professionals such as data scientists, data engineers, and data analysts continues to grow, the circumstances of hiring have shifted in some interesting ways. It may be fleeting, but there seems to have been some resurgence in economic confidence during Q3. Whether businesses optimistically believed that COVID was under reasonable control, or that they now know enough about how to work around it, there seemed to be a real attempt to return to normal. But there is probably a bit of crisis fatigue built in here as well. We want to be back to normal—we NEED to be back to normal. The reality is, what normal is has shifted, and it's going to take some time to understand what that really looks like for hiring, whether it\'s data professionals or anyone else.
So as we dig into our numbers, we're going to offer two caveats: 1) It's truly hard to assess any sort of trend at this point. After all, it wasn\'t until late September/early October that economists recognized some economic slowdown that was counter to early, rosier predictions. 2) These numbers reflect what we at Dataspace are seeing and what our clients are telling us. They are not, however, a truly random, scientific sample of the entire data hiring market. (as folks who specialize in providing data scientists, we'd be remiss if we didn't mention that).
So let's get to it. Here's a look at the data hiring we saw in Q3 of 2021 along with insights from Dataspace CEO, Ben Taub.
Continued growth in the job market for data professionals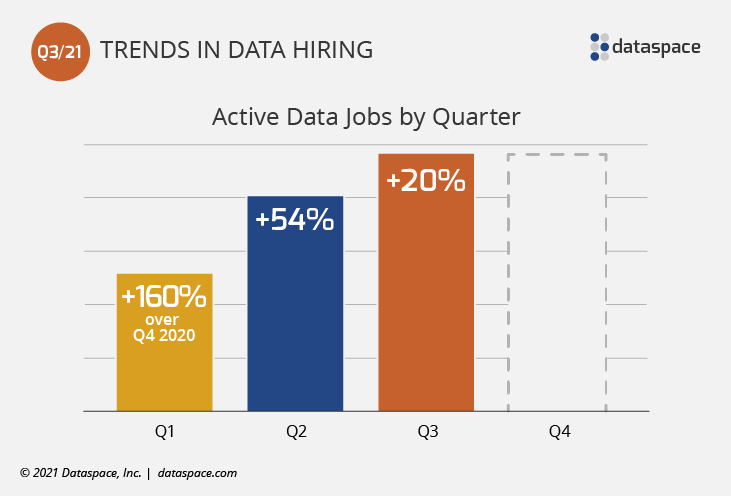 Hiring for data professionals is still up and growing. While we saw the biggest increase in job requests so far in the first half of 2021, the trend has continued into Q3. At this point we see no evidence of slowing down beyond the typical hiring pause that regularly happens EoY.
While it looks like we had enormous growth in Q1, it's important to note that two factors really drove that. First, companies were really starting to emerge from the pandemic at that point. As a result, they were ready to get back to analytics initiatives that might have been dropped in 2020. Second, there is a natural seasonality to our business, things slow down in Q4 and then pick up again in Q1 and Q2.

Interestingly, the summer slowdown we see in most years didn't happen this year. If anything, our business boomed, leading us to increase the size of our recruiting staff.
(We'll break down these numbers further in our first yearly Trends in Data Hiring trends report, coming in January 2022.)
What industries are hiring data talent?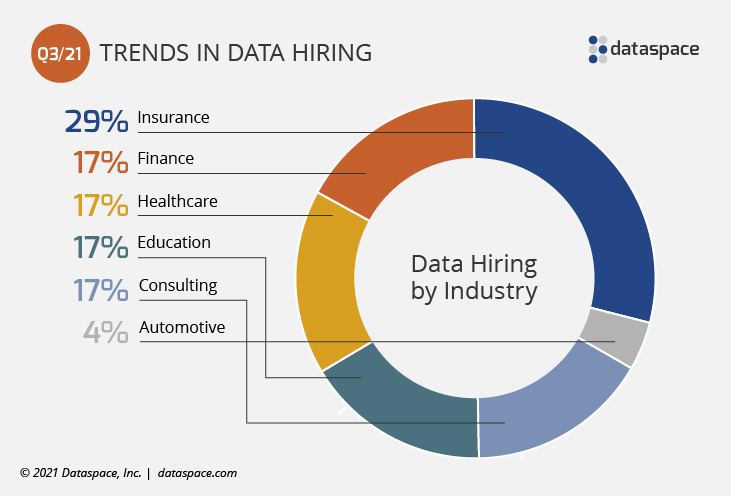 Top 5 Industries Hiring Data Talent Q3 2021
Insurance
Finance
Healthcare
Education
Consulting
In Q3 we are seeing a greater balance of industries contacting us for data talent. For us, insurance and finance continue to be major employers of data talent, since those businesses rely so heavily on data. But we're seeing huge growth in requests from the healthcare and education markets.
Over the past 9 months the healthcare industry has been able to get COVID under better control, which has freed up resources to refocus on health technology initiatives. Similarly education had to shift practically all of their efforts to coping with the impact the pandemic had on learning. Ramping up remote learning was priority #1 for tech teams. With those pieces now solidly in place, temporarily-shelved data projects can now get the attention they need.
When you compare our numbers on industries hiring data workers to predictions, there is clear overlap: One recent article forecasts insurance and finance industries to be high on the list for data jobs. Another includes healthcare. Interestingly both also predict the transportation industry as a top data job creator, which we have seen, but to a lesser degree.
One thing driving the need for data people in insurance is replatforming. A number of our insurance clients have started multiyear initiatives to move their analytic and underwriting capabilities from on-premise technologies, like SAS, to cloud platforms, like AWS, GCP, and Azure with Python.

Another interesting trend hidden in these numbers is the growth in demand from startups. A growing number of startup companies, many of which are building their product strategies on data science, are asking for our help in finding data people. These startups cover a number of industries listed, including healthcare, finance, and others.
Are more data jobs contract or permanent?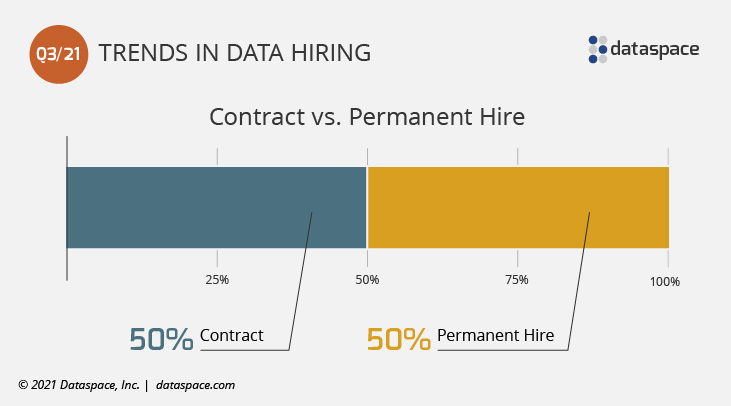 While not a huge shift from Q2 (57% contract vs. 43% perm), we have seen more requests for permanent hires in the past quarter. Contracting still makes up half of the positions we are filling, which indicates a large-scale return to project-driven data initiatives (which we see as a sign of a mature data science hiring market). But the growth we're seeing in permanent hires seems to come from a renewed confidence in the economy. Ben explains:
We're seeing an intense, urgent need for data professionals, across the board. It's clear some of this has to do with the global reboot of the economy—everyone is scrambling to catch up. But the demand for filling permanent data roles seems to indicate more than that. It may be anecdotal, but it seems like there was some real confidence in Q3. Businesses were looking ahead, not just playing catch up.
What analytics specialties are most in demand?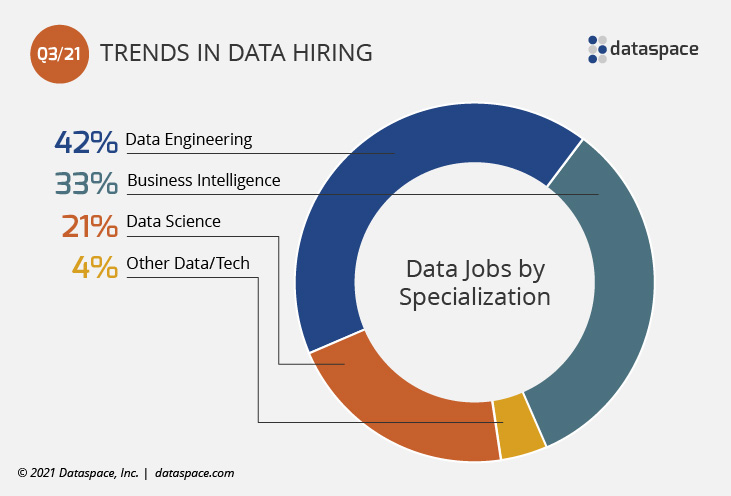 Q3 continues a trend that we've been seeing for some time now: while data science may be the "hot" career, data engineers and business analysts are as much in need as ever. But compared to Q2, when data scientists made up only 7% of our hiring requests, there's been a significant increase in demand. Ben sees this as a good sign:
Everyone thinks that data science is "the" hot job nowadays and, indeed, there is huge demand for data scientists. Lost in that, though, is the fact that there seems to be even more demand for data engineers, the people who can gather, structure, store, and extract the data needed by data scientists. Perhaps it's because data engineering isn't as "sexy" as data science, perhaps it's because data engineering seems more like plumbing than building, but it's critical. In fact, nowadays clients are more likely to come to us with requests for data engineers than data scientists. They're willing to pay more for strong data engineers than they are for strong data scientists. Interestingly, the academic requirements for data engineers are frequently lighter, too. Whereas many clients require data scientists to have masters degrees or doctorates, they are not so demanding for data engineers, valuing experience over education.
What particular data skills are most in demand?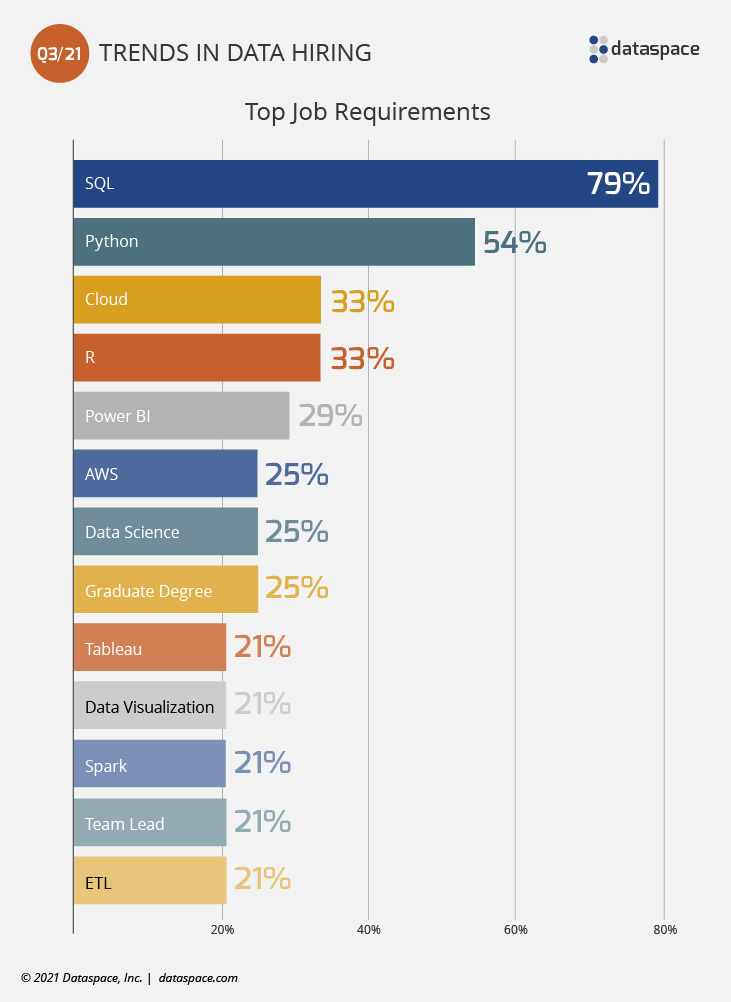 Top 5 Data Skills Q3 2021
SQL
Python
Cloud computing
R
Power BI
As expected, SQL continues to top the charts when it comes to job requirements. But the python/cloud experience combo (particularly with Amazon Web Services) is still a regular request for data engineers and has consistently been among the top requirements we've received each quarter.
It's interesting to compare our most requested skills to this list of top skills from data job postings across the internet. We see lots of overlap in core technologies and an emphasis in cloud computing.
This past quarter, we also saw an increase in demand for candidates possessing graduate degrees. Again this could indicate some improvement in economic confidence since these positions are more likely to be higher-level, higher-paying, permanent roles. But Ben also cautions hiring managers from being too focused on advanced degrees right now:
The data science hiring market is always extremely competitive, but this year it's been off the charts. You may think you're better focusing your candidate pool by requiring a graduate degree, but you have to be realistic about it's value. Using that as your gatekeeper takes a lot of great candidates off the table. Not to mention candidates with graduate degrees command significantly higher salaries. While I'm a believer in education, in the end, I recommend that you hire for what a candidate has done and can do, not for whether or not they successfully defended a doctoral dissertation.
Where are data professionals being hired in the U.S.?
We've experienced a significant shift from East Coast to West Coast clients in Q3. But it's hard to tell if this indicative of any sort of trend. When we compare the types of roles requested with previous quarters, it almost appears that the West may have been a step behind the East and Midwest when it comes to a return to growth-focused hiring. But more likely than not, we just don't have enough data to know. Ben explains:
This could be a place where our data set is failing to provide a complete picture. While we did pick up a number of opportunities in the west in Q3, this may correlate with the point I made above, that we're seeing more interest from startups. These tend to be centered around tech hubs like San Francisco and Seattle.
Will remote work continue to be an option for data-focused jobs?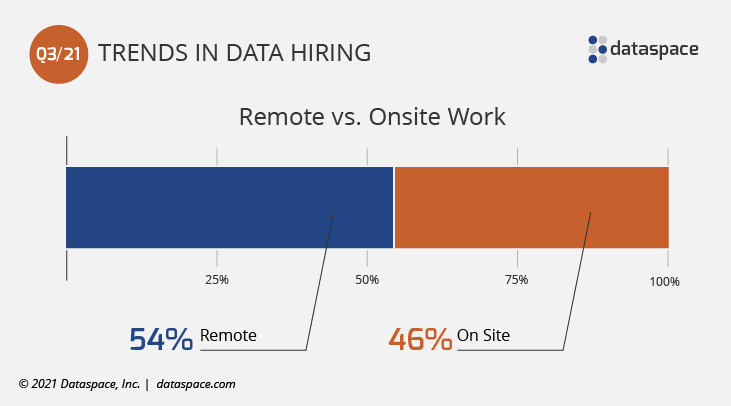 Another significant change over Q2 this year is a sudden return to a preference for onsite employees. (Compare these numbers to Q2, when remote jobs made up a whopping 79% of our requests.) This one is a bit of a surprise to us for a couple reasons: employees like remote work, and offering a remote work option greatly increases the candidate pool for some really tough-to-fill positions. Ben questions if this will last:
Again, this seems to point to some confidence that the pandemic was under control and social distancing was not as much of a concern. I will note, however, that many candidates strongly prefer remote options. So, given the very tight market for data skills, many organizations are specifying a preference for onsite or hybrid models but are also expressing openness to remote candidates if they are unusually strong. Some other companies have expanded the definition of 'local' to include the local region, implying the ability to get into the home office for meetings once or twice a quarter
So what's going on with data hiring?
The hiring climate right now is not like any we've seen before. It's hard to know exactly what the future of data work will look like, but the industry is somewhere in the middle of figuring it all out. If you are trying to fill data focused roles at your businesses, here are some key takeaways from our dive into data hiring data for Q3 2021:
Given how much demand there is for data talent, don't expect to hire the perfect candidate in a week, or even two—plan for one to two months just to lock onto the right candidate.
If at all possible, open up to the concept of remote work.
Sponsor the work visas of strong candidates who happen to be immigrants.
Do you need help hiring expert data talent? Contact us to talk to a recruiter.
Are you looking for premium data science jobs? Check out our job board for our current openings.